Welcome to Throwback Thursday! Articles with "#TBT" are posts that have been rescued from CEN.TAKU.ME and are placed in a new home here on Centaku Media. Such posts are (obviously) posted Thursday.
– – – – –
(Originally posted on December 15th, 2008)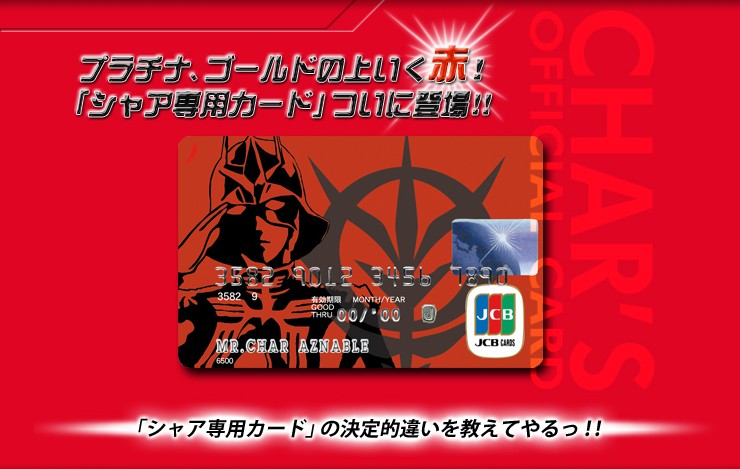 I happened to stumble upon this while browsing around COSPA's website. It's an offer to apply for the official "Char's Official Card" featuring (of course) "The Red Comet", Char Aznable, via the JCB (Japan Credit Bureau). Yup…a credit card for Gundam fans!
I don't know enough Japanese to know what is said on the page, but if you scroll down a bit, there's a shot of a Gundam model of Char's Red Zaku II. It seems that when you sign up for the card (provided if you're approved, I suppose), you also get the Zaku II.
This reminds me of a post written by DC.com member, Phossil on Otaku Credit Cards. In Japan, credit card companies offer applicants (and existing members if they've lost their card) an option for customizing their cards with whatever photo they want.
Most banks and card companies offer something similar here in the US, but I don't know if they'll accept anything "odd" that's not a real photograph… -_-