Life is tough for a high school kid who is just trying to fit in. Especially when that high school kid is a tall gray wolf who, after an already mysterious murder of an alpaca student, nearly kills a white bunny student, only to just stop himself at the last minute. She runs away wounded but safe, while he's left confused with both feelings of predatory urges and—love?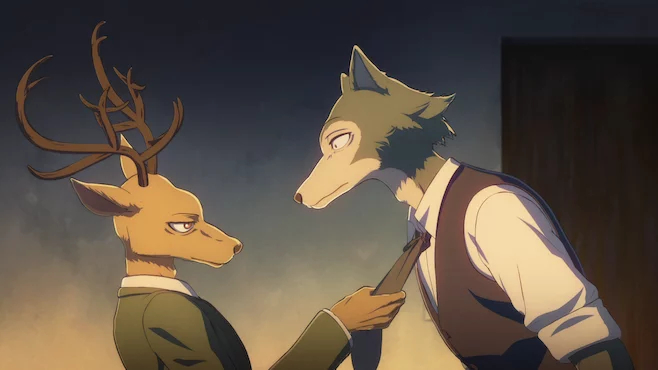 Beastars takes the more sinister implications of a world like Zootopia to their logical conclusion, examining them in a very adult way that is far from the realm of the kid friendly Disney film. So though the typical themes of high school shows still are brought to life, in a way that'd make Riverdale proud, you're regularly reminded this is a world eternally on the edge of conflict between predator and prey.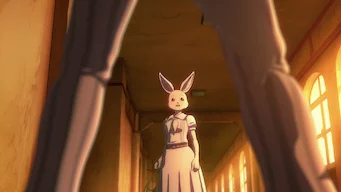 Legoshi, our protagonist and the previously mentioned grey wolf, has a naivety that's unlike that of his friends and one would presume that of his wolf nature. Aside from his initial blood thirst though, he tries to be incredibly kind and sweet with everyone, even when his confused love for the rabbit named Haru borders on toxic. Everyone else around him seems to already be more aware, more savvy of the darker world around them. The "prey", represented best by Haru the white rabbit and Louis the handsome and oh so popular stag, show how they overcome the weaknesses of their species by doing what they can to survive. Bill the tiger, and other predators along the way, show how despite their outside strength they often have a victim complex that'd make even the most ardent Fox News viewer envious.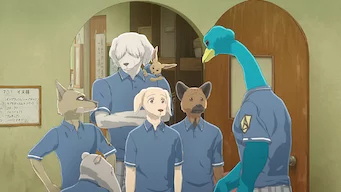 Legoshi finds himself more immersed in and more aware of the world around him as the show progresses, as he befriends Louis and pursues his feelings for Haru. All the while he learns more about himself, love, friendship, and the urges dark and light alike that drive us all.
---
Beastars is rated MA
You can stream Beastars on Netflix