This review was originally drafted in December 2012, but I do not recall if I actually published the review! This was around the time when I ran myself into a writer's block, then other things happened that I had to take care of, until the rebrand under Centaku Media a few years later. As with most of the #ThrowbackThursday posts, these are the original posts that have been edited for typos, as well as combined from the first watch review of Future Diary. Enjoy!
Note: this post may contain affiliate links. For more information, please read our disclosure policy: https://centakumedia.com/rules/
Series Vitals
Director: Naoki Hosoda
Year: 2011
Episodes: 26 + OVA
Studio: Asread
Studio – Notable Works:
Shuffle!
Ga-Rei Zero

I Couldn't Become a Hero, So I Reluctantly Decided to Get a Job
Corpse Party
Arifureta
Future Diary – Summary
Warning: contains spoilers! Read at your own risk!
A CEN.TAKU.ME review of Future Diary (Mirai Nikki) is a little overdue. It was a series watched as part of Scenic City Anime & More's weekly viewing sessions from the Fall 2011 lineup. We had to watch it at some point, because it's also a series highly recommended as a manga read. And, if you're wanting more of a series that's like Death Note, but with more depth, this let's take a look at why you should check it out at all.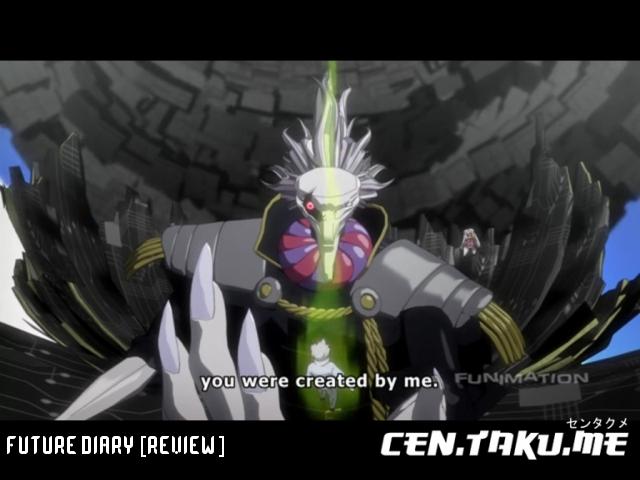 Future Diary – Initial Impressions
A student, Yukiteru, finds that his cell phone acts as a diary of the future: a "Future Diary", where events written in it actually occur. Him and 11 others have the same diaries, which drags Yukiteru into a game of survival. The losers run into a DEAD END, while the winner is elected as a god.
Going back to when I watched–or rather read–Death Note for the first time, I was skeptical of how it would go. The first chapter got me hooked from beginning to end. This is how I felt about Future Diary. But with Future Diary, the pace is a little faster, because there are more characters than the previous series in question. And I have to admit that it made more sense.
The first episode matches the first chapter very well, but with some changes being set in place for the second episode. Having read only one chapter of the manga (yes, I need to change that), it would be fun to see what happens here and there. With Death Note, I read the manga from beginning to end, and the anime slowed it down for me. Watching the anime for Future Diary first, it's a challenge of stomaching both changes from anime and manga changes. It's for the better, of course. But there is one thing that sets Future Diary apart from Death Note at all: humor.
In the second episode, things get crazy when another user of the diary is revealed. I'll only give you this–spoilers, obviously: a school is taken hostage; a girl announces her intentions as if this were a sporting event, and someone gets hurt. Who will it be? In the third episode, we find out more about Yukiteru's new friend, Yuno, and the other diary keepers with their impending demise. I wish I could have read the manga first, but let's see how this goes before I decide to finish reading.
Final Review of Future Diary
I gave my first impressions of Future Diary with certainty that it would be something like Death Note. Pardoning my comparisons–but thinking about it, you can't talk about this series without mentioning another like it, where there are more series like Dragonball Z and Gundam with elements of fighting and mecha. The first few episodes were similar, but totally unique: the main character, Yukiteru Amano, learns that the diary he keeps on his phone does more than remind him of the day's events, but rather tells him the future. In Death Note, there was a notebook lying on the ground with the words of said series on it. Yuki and Light both play the game of god, but one of them (Yuki) doesn't want further participation in the game–unless he has to save a life.
In Future Diary, you have Yuno, a girl who is very, very clingy–but who is determined to go to great lengths to declare her love for Yuki, even though they just met under extreme circumstances. The same for Misa Amane in Death Note, but there are times when she could choose to back away. Yuno, like Yukiteru, had no choice but to tag along.
Future Diary gets to the point where the show deserves a TV-MA rating. Not because of the other crazy girl–Minene, another diary holder who actually plays an important role in the story–has a missing bloody eye so gruesome that it's pixelated, but for scenes that borderline an HBO series–or a late evening prime-time cable series that includes such elements that would not be appropriate for an audience under the age of 17-ish–with brief nudity and innuendos–along with surprises that are too shocking to give away in this review.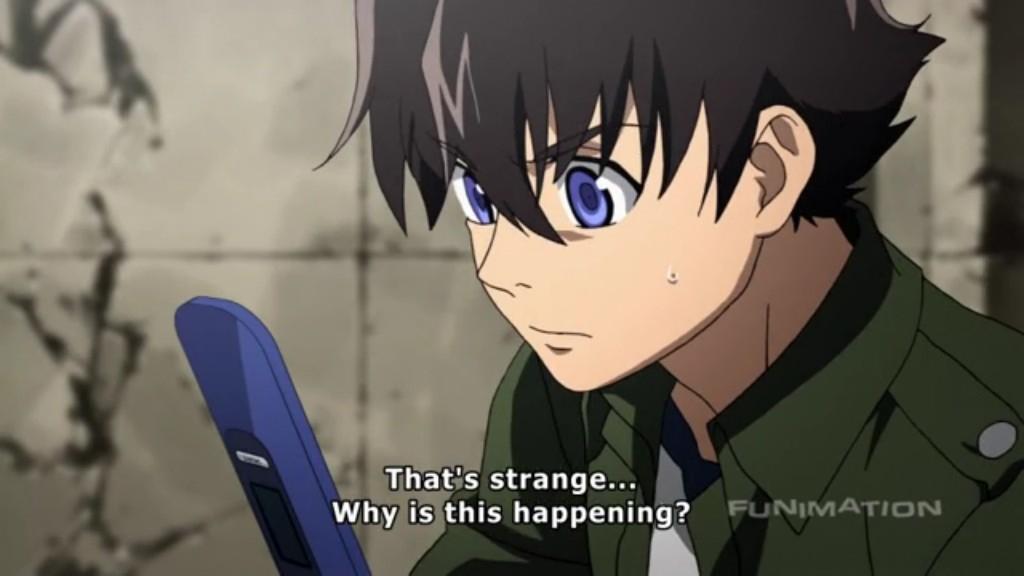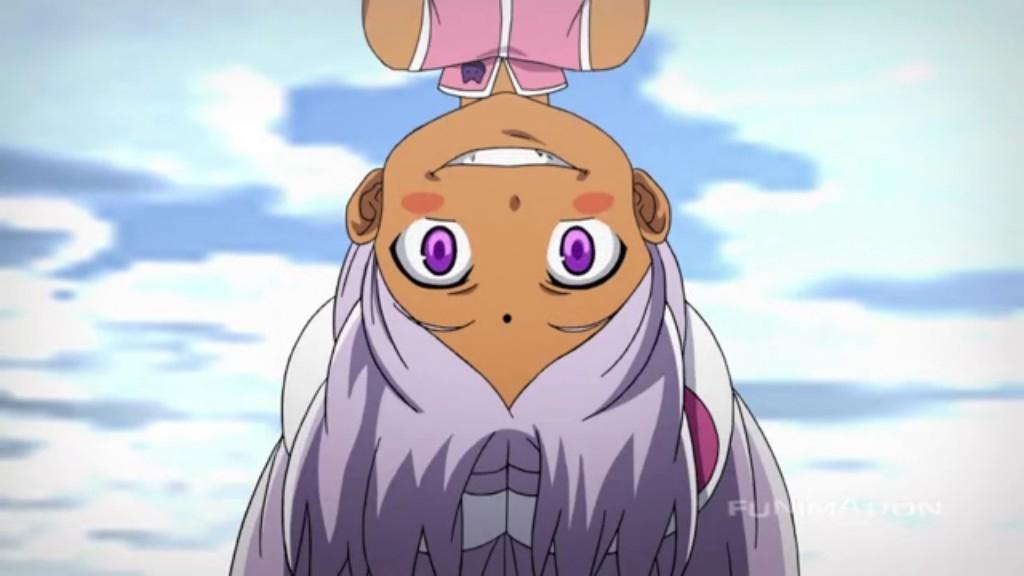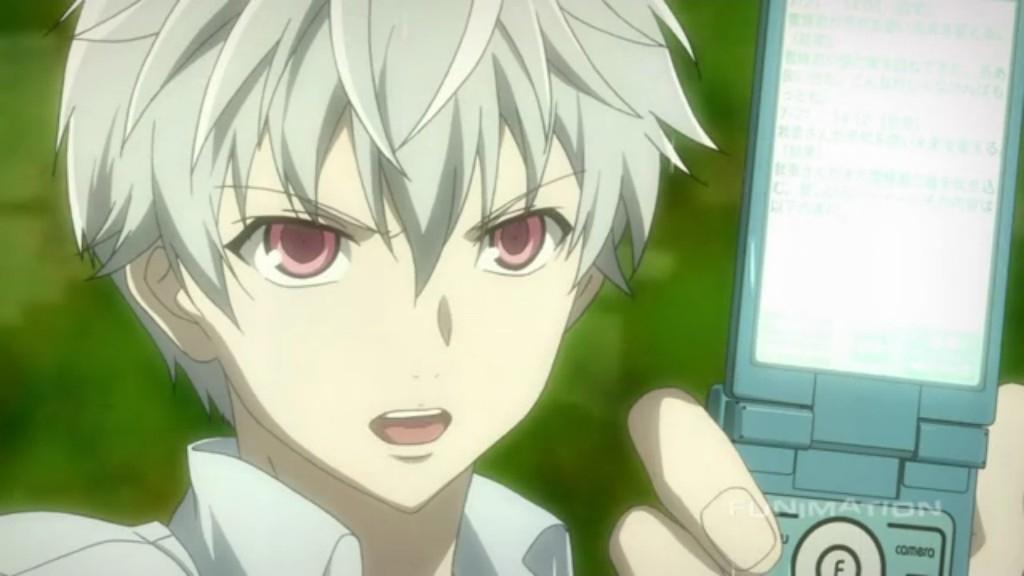 When the 11 not-so-minor characters were introduced, I saw that this was going to be a very quick series, as there's more to the manga to explain (keeping in mind that I have yet to read the manga). There are some who die, then there are some who keep coming back–characters that were thought designed to fail during their first appearance–but they really play an important part of Future Diary. There are characters who wished would go away. But you might want to wait until you wish for anything rash. The more you watch, the more you realize how important and how bad you feel for the character.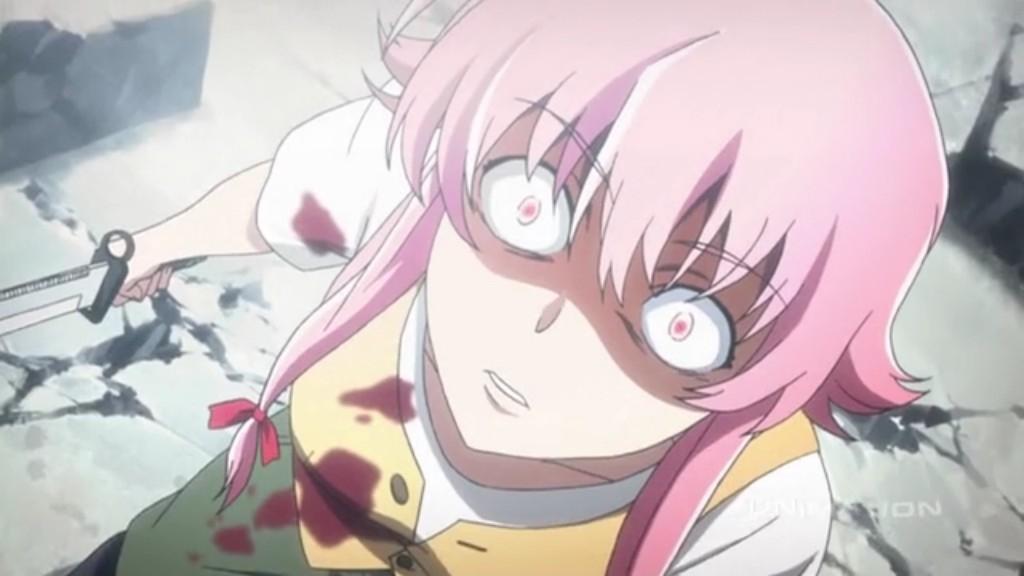 The other diary holders are very diverse: a guy who's a "Sentaicon" (if that's such a term–or someone who is obsessed with shouting lines from a Sentai show), a cute little boy (or girl?) who doesn't look like a diary holder, a cultist with a troubled past, and a strange, large headed woman who is in charge of an orphanage. While the important diary holders seem to know about the diary's powers prior to Yukiteru's introduction, the remaining diary holders are sucked into the game of God–even those close to Yukiteru.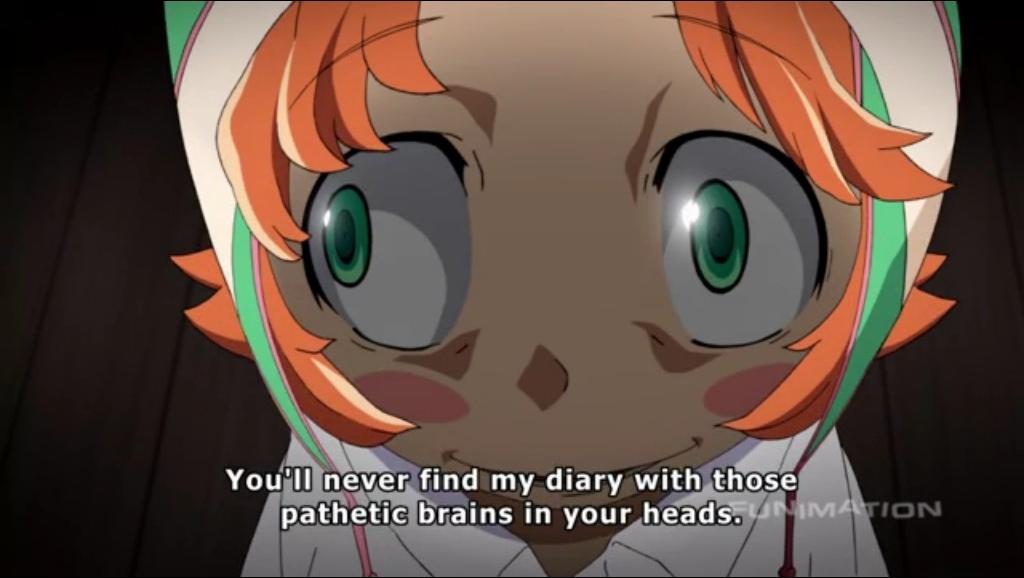 Future Diary has somehow work its way into my library of shows that would feel right at home without doubt. Maybe not a series you need to stop what you're doing to watch, but definitely a series to own and watch for any mood you're in–even if you're uncertain of the elements provided. There's not much to complain about the animation: the character design is your typical modern Shounen-style art. Although, you may find yourself looking away when a character is plotting evil.
As far as story pacing is concerned, it would take–wait for it–the first chapter of the Death Note manga to win one over. With Future Diary, it took several episodes before I fully understood the story. While that's the usual number of episodes it takes before even consider finishing it, it's rare for me personally to enjoy a series as it reaches its conclusion. Of course, the experience would have been different for one who read the manga first.