During my stream of Final Fantasy XIV, I had my annoyances of having to read the dialog text from far away playing the game on the Playstation 4, as my setup was me sitting near a bed where my TV is mounted, giving me no option to place a chair near the viewing area. The solution would be to make a place where I can place the screen in front of me in a traditional PC Gaming style setup. That's easier said than done.
Even if I was sitting near a screen, I would still have increased the dialog box when I'm talking to NPCs in Final Fantasy XIV. Here is how I did that on the PS4, which I showed during the stream and highlighted it for future use:
For those that can't watch the video, here is what I did: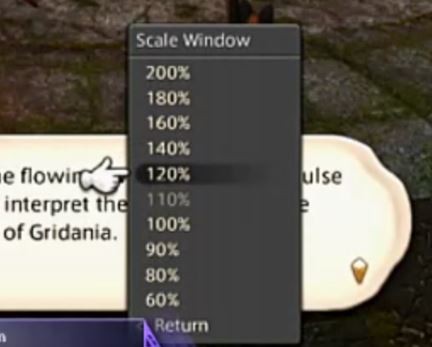 Change into Virtual Mouse mode pressing both L1+R3 buttons
Activate the text box by talking to an NPC.
Use the Right Analog stick to move the cursor to the dialog box.
Press R2 (right click) to bring up a small menu
Hover over Scale Window and you can decrease or increase from 60% to 200%
By doing this, you do not have to increase the overall UI side to be able to see the dialog box! Credit goes to this post asked by u/Ark_Heavensward on Reddit on how to achieve this!
Live @ Centaku Media on Twitch
Check out the Centaku Media channel on Twitch for more gaming content!