On October 29th, 2015, Star1 Entertainment held the 90s KPOP Superstars Concert in the Metro Atlanta area at Wild Bill's nightclub (now known as Atlanta Coliseum) in Duluth, GA, which was a surprise treat (pun intended because of the eve Halloween Eve) for K-Pop fans who live in the Southeast.
A concert of this kind was also interesting as the K-Pop acts who have performed in the US are current mainstream artists such as BTS or BLACKPINK. These are from a generation where K-Pop was largely unknown except in Korea.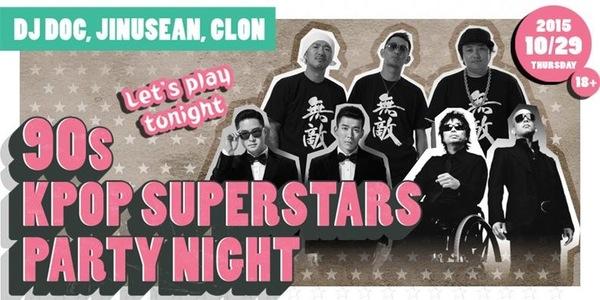 The concert featured well known K-Pop and Hip-Hop groups of the 90s: Clon, Jinusean, and DJ DOC. People who have been into K-Pop for a little over 10 years may recognize some of these artists such as Jinusean. But for someone like myself, being into K-Pop for close to 20 years, my interest was set on Jinusean, as well as DJ DOC. However, it was on this night I was introduced to Clon.
This was my first time witnessing Clon's performance live, although I have never sought to listen to their songs. This group was the most anticipated with the audience, especially with the introduction of Kang Won Rae, who made his way to the stage in a wheelchair. Back in 2000, Kang Won Rae was involved in a motorcycle accident back that left him paralyzed from the waist down. Fans of his cheered on as he appeared, shedding tears and even took selfies with their friends towards the stage with him in the shot.
Jinusean was next to perform, in which they opened with their 2015 comeback song, "Tell Me One More Time". They also performed their past hits such as "Phone Number" and their debut song "Tell Me" that featured Uhm Jung Hwa back in 1997. At one point during their set, a member from the crowd got on the stage and danced around them, where they looked at her in amusement before she was returned to the attendees.
My favorite performances of the night were from DJ DOC, a group I personally anticipated as they were my first old school K-Pop group I grew into years later as I expanded my K-Pop tastes. They opened with their 2010 comeback song "I'm That Kind of Person", and performed "Run to You" among several other songs.
Attending this concert is a slight departure from what I am used to witnessing mainstream K-Pop artists such as BIGBANG–a group of the first K-Pop concert I attended back in 2012. There were many people more familiar with these artists as many of them grew up listening and watching these talented artists; especially as the concert was held in Gwinnett County, GA, with a high population of Korean Americans.
I really enjoyed this concert, and I hope to see more of these featuring old school K-Pop artists in the future. However, as of 2020, it will be a little longer before a concert can be considered.
Note: Advance apology for the quality of the pictures. And I thought I took more, but with this being five years ago, I think this was when I took appropriate shots and enjoyed the concert. I balance I was looking for as I've attended 20+ concerts.