Collecting Shitajiki is a step forward in becoming an Otaku for life. Anime enthusiasts usually collect figurines created based on original or existing characters. For me, however, I take a different approach to collecting anime memorabilia. Shitajiki are pencil boards, like a clipboard–but without a clip, and with graphics. They are just like trading cards, but twice in size!
Author's Note: This post was originally published in April 2008. I decided to give this post another life for anyone who is interested in collecting these. However, it's been a minute since I've invested in them, but with having to republish this post, I just might give it another shot! Enjoy!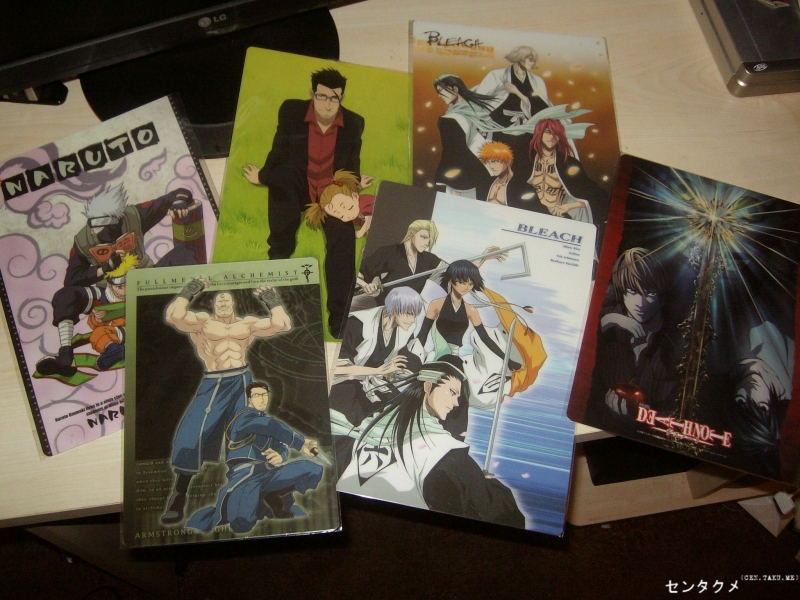 The photo above is a sample of my growing collection. I've been collecting them for a few years. The only time I buy Shitajiki is at anime conventions, where the tables are always crowded with fans looking through the selections. The first ones I found were amazing. However, some of them were "plain" since the same picture is seen all over the place, such as the Internet.
What I like about Shitajiki is that it captures the true side of the characters, like these I will show very soon. Shitajiki can be hard to obtain, but there are places where you can buy them for cheap (and I don't mean bootleg prices!). The price of pencil boards start at $5.00 and up, depending on the rareness. The most expensive one I bought so far cost $12.00. It was worth it, in my opinion. 😉
"Plain" Shitajiki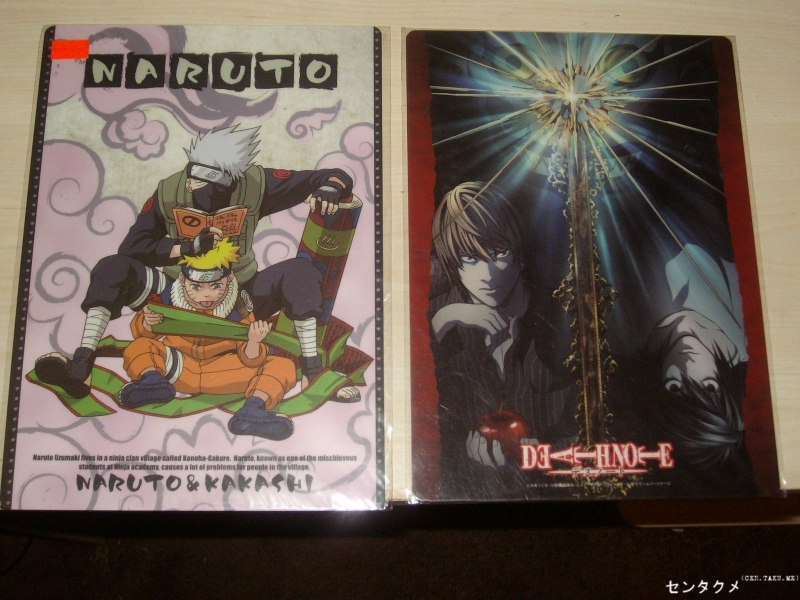 These are the Shitajiki I mentioned that were "plain". The one on the left is from the series, Naruto and the one is from Death Note. It seems that there is nothing special about them, since I've seen the same picture before (it could be on my hard drive!), but since it shows my favorite characters, I've just gotta have it!
Bleach Shitajiki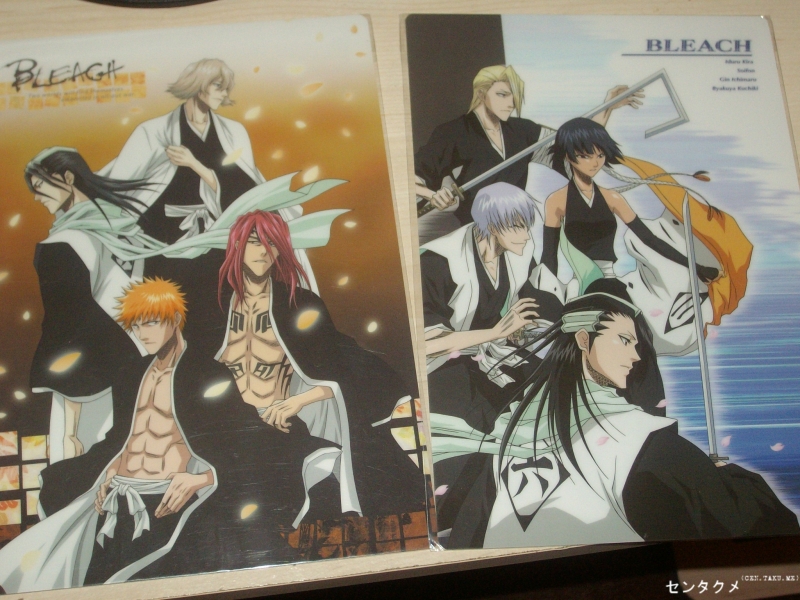 I just purchased these at JAMPcon 2008. They are my first Shitajiki I brought featuring Bleach characters. I definitely haven't seen these images before, except the one with (characters), which is starting to pop up in public.
Fullmetal Alchemist Shitajiki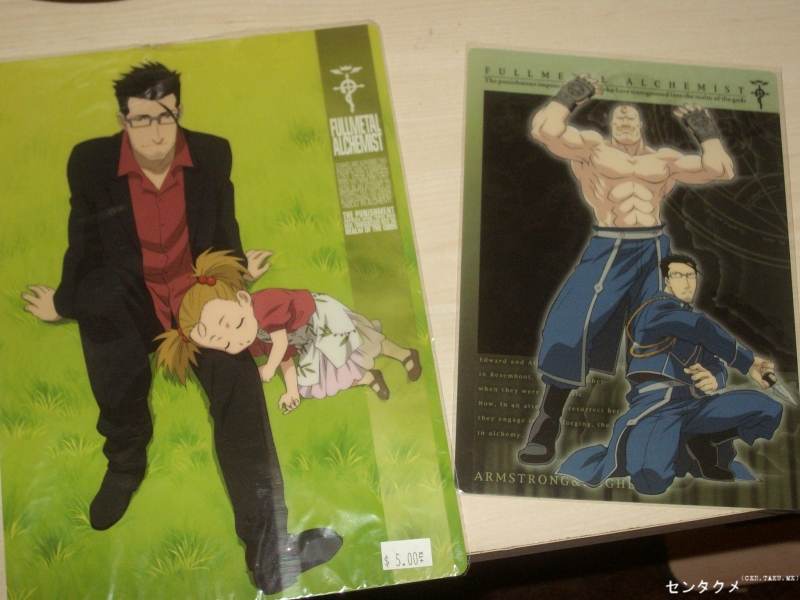 These are actually the very first Shitajiki I bought, from Fullmetal Alchemist. Purchased at Anime Central a couple of years ago. The one with Maes Hughes and his daughter, Elicia, caught my eye, and quickly removed it out of sight from any hungry fangirl Otaku. It's so cute, and it captures the ideal life of the Hughes family. 🙂
The other one I purchased online features Hughes and Major Alex Louis Armstrong in an action pose. Another satisfied purchase. Finally, there is one more Shitajiki I couldn't not show in the picture as it actually poses a spoiler for those who have yet to see Episode 25 or read Chapter 15 of the manga…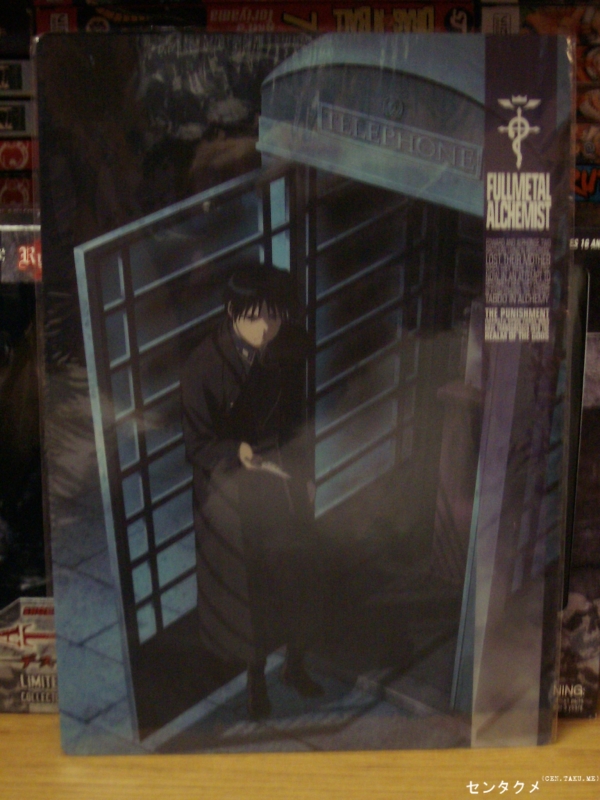 Where to Buy Shitajiki?
Just like I've done in the past, you can take a trip to your local anime con and check out a few dealers that sell Shitajiki. If there's not a convention in your area, there are a few places you can purchase them online. To start it off, check out eBay. It's where hardcore collectors of all kinds go to find what they are looking for. If you don't like eBay, there's always Yahoo! Japan Auctions. It's a haven for hardcore anime collectors. Check out Rinkya for help on bidding for those who are not ready to master the Japanese language.
Keep in mind when order products from overseas to be prepared to pay extra shipping fees for insurance. Always get insurance! There's also a chance of your shipment getting caught by Customs Agents, so keep a close eye on your package by tracking it.
Spotting Bootleg Shitajiki
Yep…there are such things as bootleg Shitajiki. The only way to find out is looking to see if there is a serial number on the back at the bottom. If there is a serial number on the back, then congratulations!

If you don't see anything like this, then you are out of luck. However, some legitimate Shitajiki don't have it directly on the board, but on the proof of purchase sticker on the plastic package. There are more ways to spot a bootleg, such as blurry pictures. There can be misspellings as well, but legitimate pencil boards has those as well (i.e.: Take a look at one of the Bleach Shitajiki). These tips are something to look for when purchasing Shitajiki from auction sites, but you can get a better look if you picked one up in person or ordered one from a reliable source.
Conclusion
That's all there is to collecting Shitajiki! This is a mini-guide, but perhaps I went a bit long as expected. Happy shopping!