I'm excited to bring you the first brand new anime review since the blog relaunch, and one of the world's latest series, My Hero Academia. After witnessing a huge gathering of My Hero Academia cosplayers at Anime Weekend Atlanta 2018, I had to see what the hype is all about, and in this preliminary review, I can tell why it's as popular as it is. It's reminiscent of another anime series I really enjoyed from early in the decade, but with more of a scholastic focus. Oh, and super heroes.
Series Vitals
Author: Kouhei Horikoshi
Also Known As: Boku no Hero Academia (Weekly Shounen Jump), 2014 (ongoing)
Year: 2016
Episodes: 60+ (ongoing)
Studio: Bones
Studio – Notable Works:
Fullmetal Alchemist
Eureka Seven
Soul Eater
Wolf's Rain
Space Dandy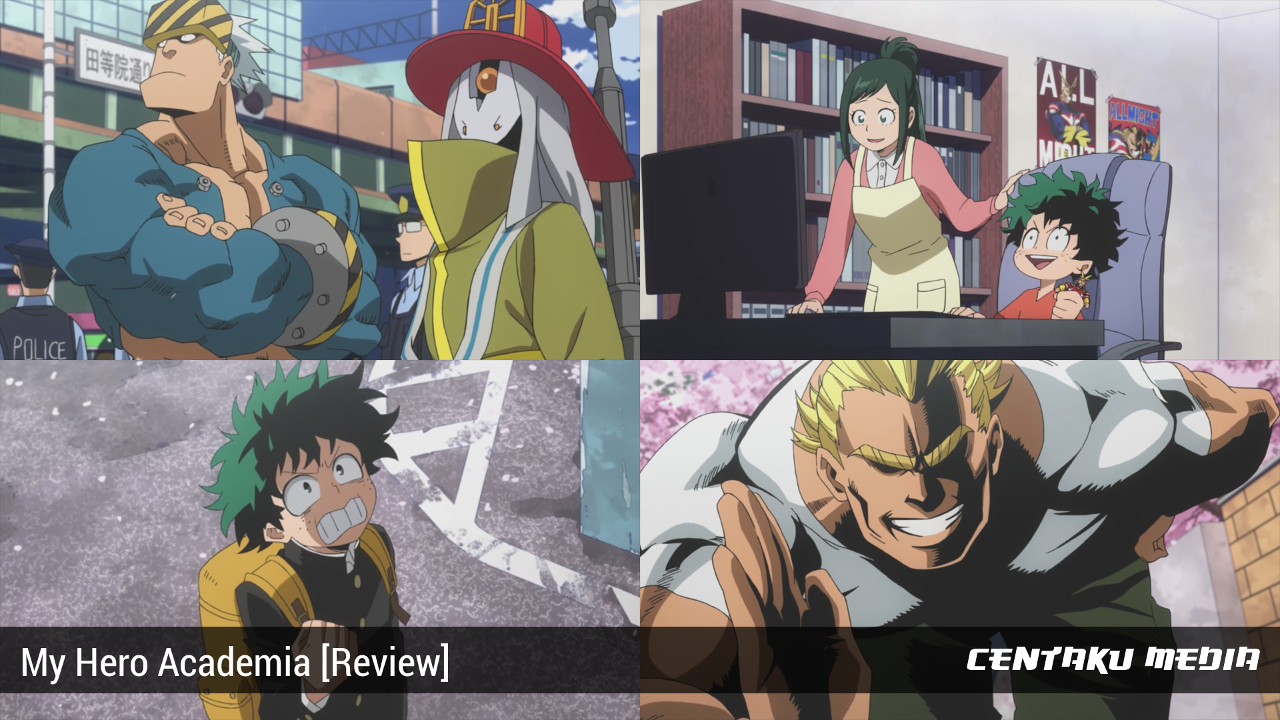 My Hero Academia – Summary
The first episode introduces us to Izuku Midoriya, who is a student who dreams of being the greatest hero who ever lived. But he isn't just a regular student… maybe he is. The thing is is that he wants to be more than a ordinary school kid. He is surrounded by other people who were born with "Quirks"–which are extraordinary abilities that a normal human does not have, such as the ability to become a giant, such as Mt. Lady, who is eventually introduced. Basically it's the basic plot of X-Men, for the most part.
Izuku, whom his friends call Deku, dreams of becoming a hero like the ones he seems during a villain fight on his school route. This triggers a flashback of him being bullied as a child, which we later see to him very excited to watch his favorite "-tube" video of his role model, All Might.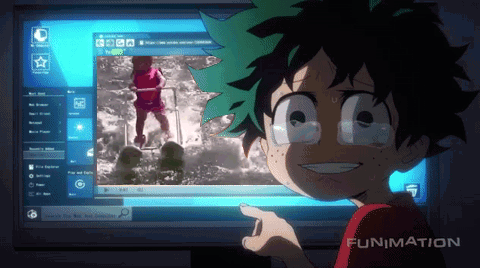 After expressing his desire to be like All Might, we see another scene where he gets a rude awakening by a doctor, saying "it's not happening." Deku was born with the possibility of having a quirk later in life, but the X-ray shows otherwise at his age in the flashback. However, even as a teen, it's very unlikely of him to have anything special about him, thanks to the lack of powers from his parents. (His mother having the ability of moving objects from afar, like The Force in Star Wars.)
As a teen, that doesn't stop him from chasing his dreams. He keeps a notebook filled with observations of different heroes in an effort to build himself up for success, especially when he goes to the Heroes Academy. But even his childhood friend dismisses him and his other classmates bully him into giving up. Until he meets All Might face to face.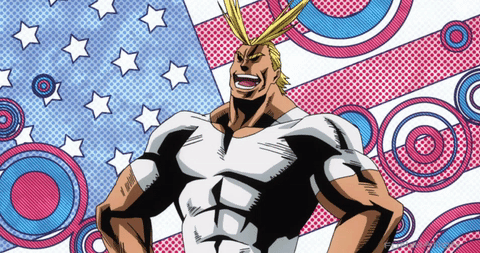 Opinions
I've put off watching My Hero Academia for the longest time, but I suppose I've choose the right time to check it out. It seems to be a very exciting series, although this is coming from someone who's only watched the first 5 episodes of the series. And that statement is promising in itself, as some might find watching beyond this general scope to find reason to continue. Fortunately, it only takes the first two episodes to find out whether Deku gets a chance to achieve his dreams of becoming a hero.
While there are many characters to name, even the characters with very, very little screen time get some sort of character development. Though My Hero Academia is showing no signs of slowing down, it looks like there could be possibly more character explorations down the line.
Favorite Moment(s)
I suppose my favorite moment, to not spoil too much of the initial five episodes, is Deku's resolve to becoming the ultimate hero, and it's not just for himself. His motivation and emotions reminds me a bit of myself, and I did find myself holding back a few tears. Very rarely I do that and the last, most recent time I held back tears was on the final episode of Paranoia Agent.
Final Thoughts
Now I see why My Hero Academia is the latest fandom you'll see at almost every convention you go to. Although I am a little upset about the popularity–although it's not a huge hindrance. The last anime series that explicitly features superhero by title–and not just by reading between the lines, like Dragon Ball–is Tiger & Bunny. While that series was released in 2011, that series had promise of more content aside from the movie. But I digress. As for My Hero Academia, it's a series I can see myself supporting in the meantime.