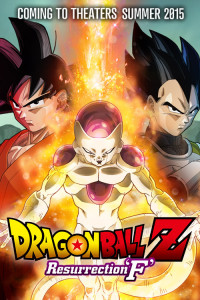 To kick off my return to blogging, let's talk about the most anticipated anime movie of 2015. It is the fifthteenth movie in the Dragonball franchise: "Fukkatsu no 'F'", or "Resurrection of 'F'". Or "Resurrection 'F'" as the official title outside of Japan. This is also the second Dragonball movie since the release of "Battle of Gods" in 2013!
There is so much to look forward to in Resurrection "F". The story behind the title actually means that everyone's favorite Dragonball villain Freiza returns! How is this possible, after it seemed certain that it was impossible for him to return. I am not sure, but we'll find out when the movie is released this Summer in the US, courtesy of FUNimation!
Resurrection F was released on April 18th, 2015 (which happens to be my birthday!) If you know me, I am a Vegeta stan (stalker + fan). After the release of Battle of Gods and in early 2014, Akira Toriyama spoke in an interview saying that if he were to make another Dragonball movie, he would like to make Vegeta the main focus of the movie. Judging by early–and spoiler-free as possible reports, it is hopeful that Toriyama made good on his promise! Although I know a lot of us our trying our best to avoid spoilers until this Summer.
If you don't care for Vegeta (and how dare you!), there is something else to look forward to in Resurrection "F", such as the new Super Saiyan God Super Saiyan–or SSGSS transformation. I wonder if they'll change the name of SSGSS to something simpler when the English dub is released…? Check out the trailers below to get hyped!!
[Source: Saiyan Island]