It's been a minute since I posted an updated schedule of games being streamed on our Twitch channel on the blog, but the wait is over as September 2021 is on the horizon!
September will see the addition of a fourth day to the lineup! You can now watch Centaku Media on Twitch on Mondays in addition to Wednesday, Thursday, and Fridays. September also continues with our First Playthroughs of Shenmue III and Persona 5! It also looks like an end is in sight for Shenmue III, which means there will be another game in its place soon enough. A follow-up game has been decided and will be announced following the conclusion of Shenmue III.
Also, Anything Goes Gaming has been further revamped! Anything Goes has gone through a few transformations, beginning with a random choice selection during the stream, to a pre-determined variety lineup of games that need attention from the personal game library.
In August, we kicked off a First Playthrough of Genshin Impact, along with the continuation of Pokémon Sword in the exploration of the Isle of Armor, and the return of Final Fantasy XIV for the first time in two years!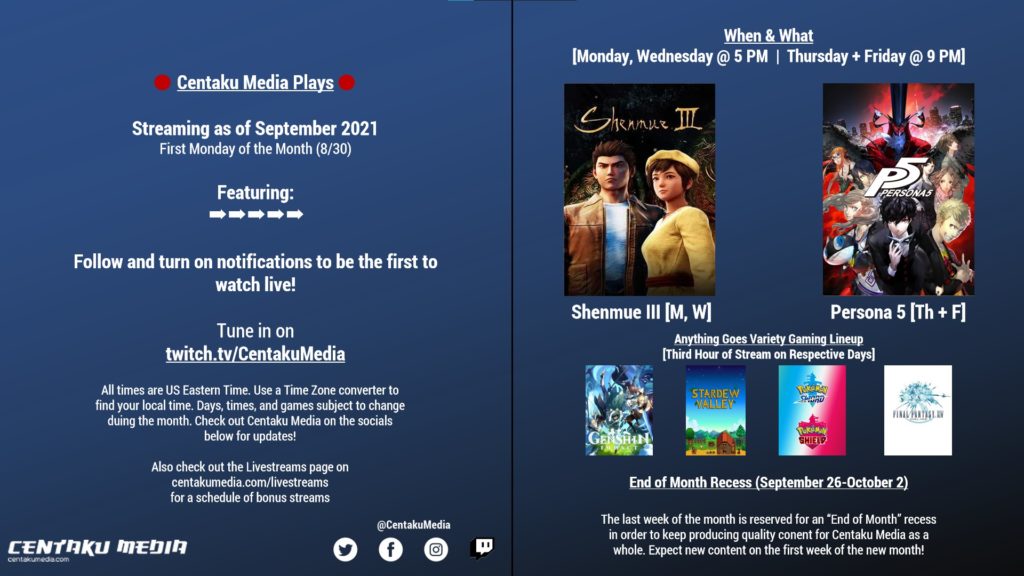 The full lineup of games are as follows:
Monday @ 5 PM
Shenmue III
Genshin Impact (@ 7 PM)
Wednesday @ 5 PM
Shenmue III
Stardew Valley (@ 7 PM)
Thursday @ 9 PM
Persona 5
Pokémon Sword (@ 11 PM)
Friday @ 9 PM
Persona 5
Final Fantasy XIV (@ 11 PM)
Hope to see you then! Tune in and follow on twitch.tv/CentakuMedia! Make sure notifications are turned on to be the first to watch live!