It's been almost two years since the long awaited release of Final Fantasy XV, and while the hype has died down a bit–only to be revived any day now, with the upcoming Winter 2019 release of the Season 2 DLC–fans who are starving for more Final Fantasy XV content can whip up the game's 110+ dishes, served by Ignis Scientia.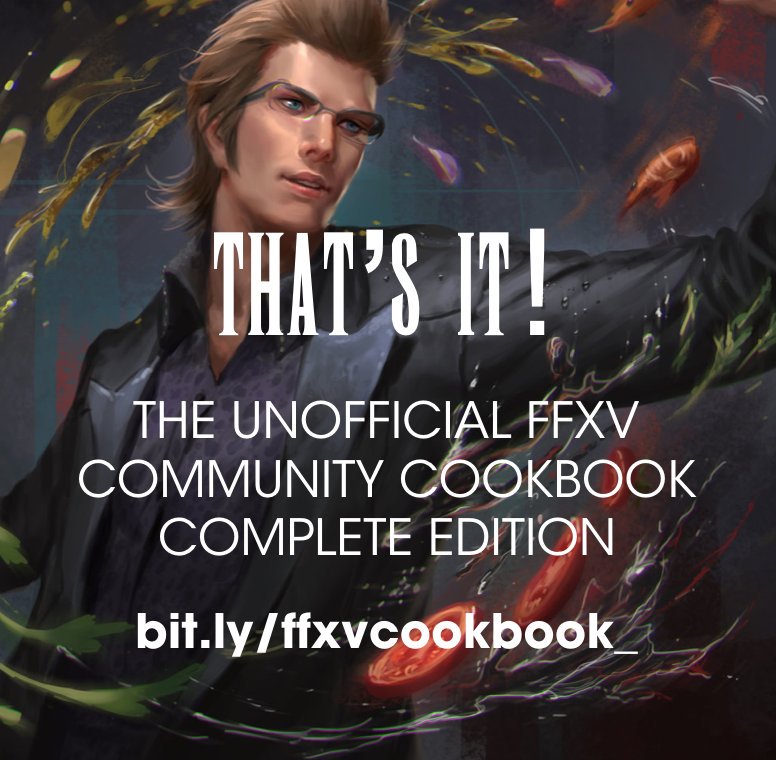 Called "THAT'S IT! The Unofficial FFXV Community Cookbook", the cookbook was an effort by over 50 fans to recreate the dishes made by Final Fantasy XV's 22-year-old Strategist, Ignis Scientia. The cookbook took nearly a year to complete thanks to the fans who contributed, cooking up over 100 of the dishes to choose from at camp after the end of the day. Here are some examples of the "recipehs":
Kenny's Original Recipe
https://www.instagram.com/p/BUa4zeFAMek/
Mystery Meat Sushi
https://www.instagram.com/p/BUhr3qAg3v0/
Croque Madame
Cup Noodles
https://www.instagram.com/p/BUtBwn9gORo/
Jetty's
https://www.instagram.com/p/BVIlzfVgFG5/
Fried Rookie on Rice
And a recreation by yours truly! (Not featured in the book, but made just for fun!)
https://www.instagram.com/p/BcGWnK9H7bU/
To download the cookbook, head on over the the official Cooking With Ignis page! Also check out their Twitter, Instagram, and Facebook page for more delicious dishes!
Have you made a "recipeh" from the game? Show and tell it to us in the comments!