After two years of lockdowns and shutdowns due to the Coronavirus pandemic, MomoCon is returning for a full weekend of activities and guests at the Georgia World Congress Center on the weekend of Memorial Day 2022. Since it's been a while since a large-scale event like this has been held for anime fans and otaku in the Southeast US since Anime Weekend Atlanta last September, what do people out of "convention practice" look forward to for MomoCon 2022?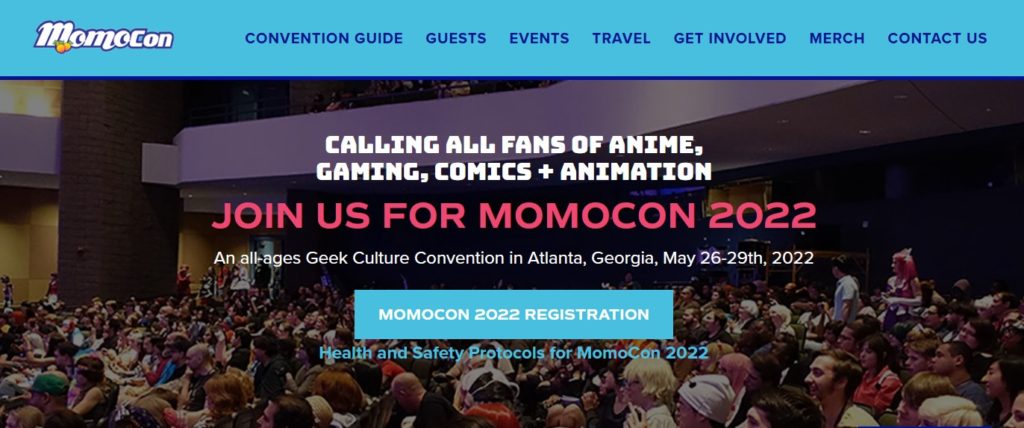 Guests for Momocon 2022
There are so many guests to see at MomoCon 2022, ranging from voice talent, musical guests, cosplayers, and YouTubers including Saberspark, JaxBlade, PaleoStenom, and SungWon Cho! A guest highlight of MomoCon '22 is the current voice of Disney's Goofy, Bill Farmer. He's joining several other voice guests including Phill LaMarr (Green Lantern in Justice League), Zach Aguilar (Aether in Genshin Impact), Colleen Clinkenbeard (Luffy in One Piece), Alejandro Saab (Shallot in Dragon Ball Legends), Emily Neves (Eri in My Hero Academia), and many more!
Events at Momocon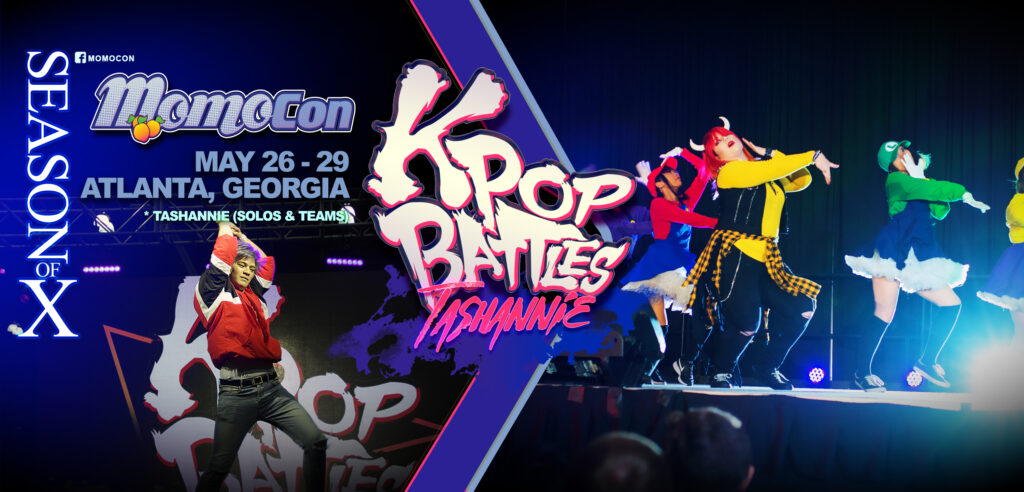 There is so much to look forward to at MomoCon 2022, especially for those who are into multiple fandoms! One exciting event throughout the weekend is the Squid Game competition. Those who compete test their skills to see who emerges victorious with prizes, by engaging in the children's games as seen in the hit Netflix K-Drama. As always, there are tons of panels to check out. One panel of interest is the Diversity in Cosplay & Pop Culture panel, which is a must-attend at every convention.
For those whose interests fall under the K-Pop fandom, there are many panels to choose from: Kpopping in the 90s panel, Guess the K-Pop Meme, and the biggest event everyone is looking forward to is ANX J-Pop/K-Pop Battles. Although things will be a little different without the rave this time around, there are a few concerts to check out during the weekend: the TriForce Quartet will be performing at the event, and the anticipated Anime Rap Takedown concert featuring GameboyJones, Connor Quest!, Cam Steady, Shwabadi, Breeton Boi, and Rustage.
Everything Else
If you're a cosplayer, MomoCon has the fan-organized photoshoots on their schedule page! A few photoshoots of note this year include the Genshin Impact cosplay meetup on Saturday, as well as the Final Fantasy XIV cosplay photoshoot Friday. For those unable to attend the FFXIV meetup, there is also the Square Enix meetup on Saturday as well. And lastly, for those who are still fans of the series after all these years: there are not one, but two Homestuck meetups on Friday and Saturday during MomoCon 2022.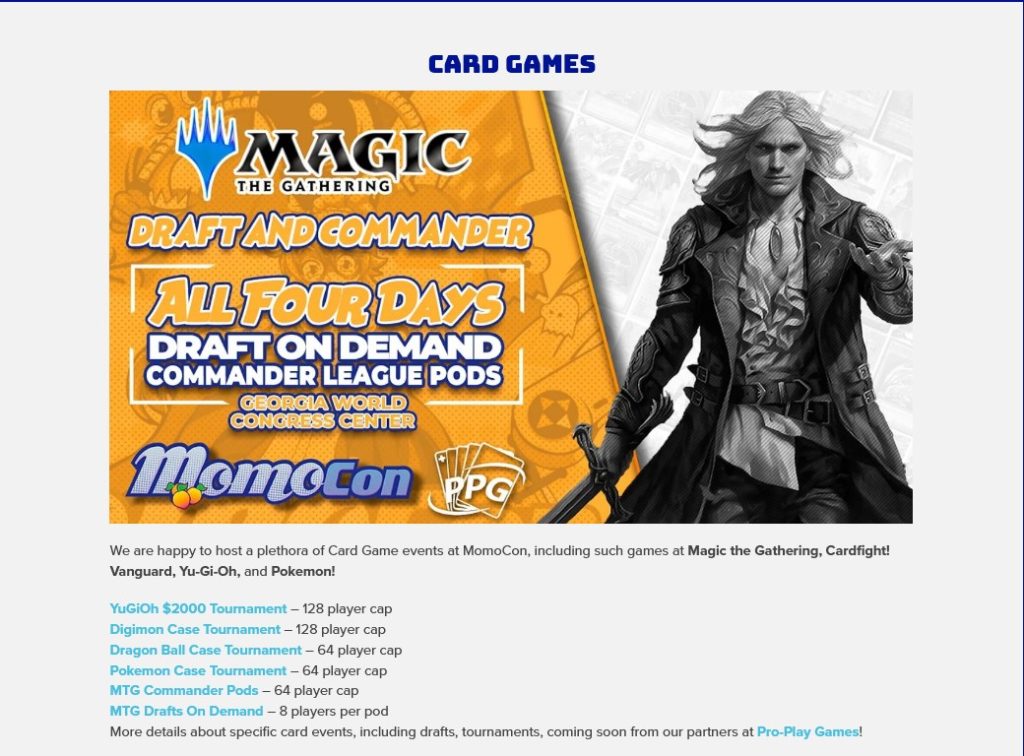 Of course, there are tons of tournaments for those who are gamers–tabletop and the visual kind! Digital gaming tournaments include Dragon Ball FighterZ, Tekken 7, and Super Smash Bros. Ultimate to name a few. The card games feature a Yu-Gi-Oh tournament with a prize pool of $2,000, along with other tournaments for those who play Dragon Ball, Pokémon, Digimon, and let's not forget the Magic: The Gathering peeps!
Conclusion
With so much to talk about MomoCon, I think it's best to check out their website! If you haven't been to a convention before, I highly recommended going! It is to be held on Memorial Day Weekend 2022, which is from May 26th through the 29th at the Georgia World Congress Center in Atlanta, GA.
Bonus: If you have yet to attend a convention or need a refresher, check out 7 Convention Attendee Pandemic Safety Tips From a Convention Veteran.