Note: This was originally written on September 21st, 2011 and is republished for archival purposes. By the time I posted this, the Tumblr account for Weeaboo Stories was taken down, likely for obvious reasons. This post originally included links to the account, but not even the Wayback Machine has them. So previously existing links will be highlighted in red for those who (whether it was for good or bad) missed out on the dark side of the fandom. Just imagine what went down in the broken links…
---
I recently came across a website, or a Tumblr, that contains the horrors of the anime community: online and offline. The subject of this Tumblr interested me in many ways as I can partially relate to after past encounters with this particular kind. Enter Weeaboo Stories: the Tumblog of stories of those very people that ruin the way of lives for those who want to have fun.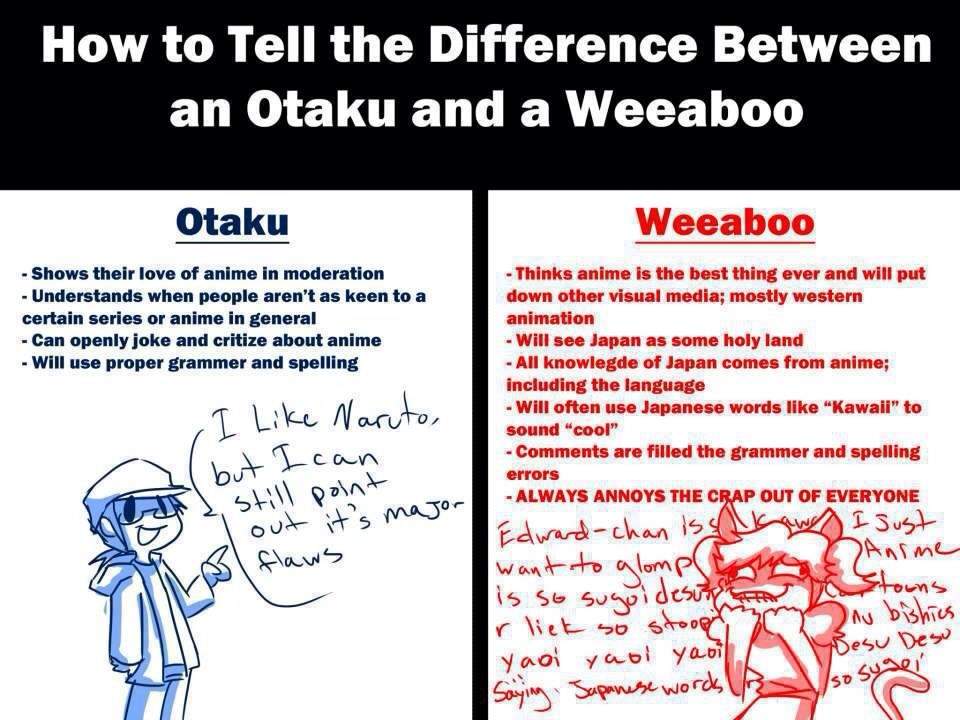 Weeaboo Stories is a Tumblr blog featuring posts from individuals discussing their unfortunate encounter with a rabid fan: the ones who go to great lengths to make themselves look good when they are doing it totally wrong. The topics range from bad cosplay–often turning the tide with good cosplay–photos, screencaps of rants from social network sites, user submitted stories, and WTF-worthy videos. Everything is there that shows the truth behind anime fans in the 21st Century.
(Caution: I would like to remind those that reading the Tumblr, and the rest of this post, may hurt feelings.)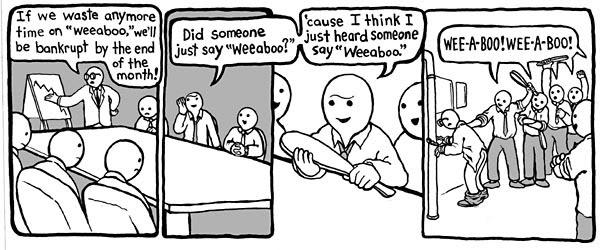 For those unfamiliar with the word, "Weeaboo" is a derogatory term used towards anime "fans" who throw away their everyday lives to enjoy everything that comes from Japan and shun those who despises a certain aspect of anime, ruining the experience for those who honestly enjoy it without embarrassing themselves with annoying Animated GIF avatars* (when online) and Naruto headbands (when offline).
*Author's Note: a part of this reference is from another article I wrote about a community I was a part of that I left behind due to the toxicity, but I'll repost it for another day. But it probably makes sense to the reader without it.
The characteristics of a "Weeaboo" include the usage of the word "kawaii" and "-desu," the requirement of knowing at least 10 Japanese words like "ねこ" [neko], playing MapleStory (or Ragnarok Online) around the clock, and owning at least one Kimono. Such examples are explained in the following video:
Reading Weeaboo Stories can bring out many feelings. It's hilarious to read how people make it an effort to exclude those that don't live up to their expectations in a culture that is meant for entertainment, not as a popularity contest. For example, here is a story about a fan befriending another, only to end up ignoring her throughout the rest of their high school years. Also, why you should NEVER glomp people. It can be also depressing because we were once like the people depicted in the horror stories, whether the dedication was obvious or secretive–but we have, and still, RESPECT one another.
One other thing that is depressing reading the site is the people who are too addicted to Weeaboo Stories that they threaten other fans (and their friends) with picture submissions of their "bad cosplay." However, such comments are posted for the whole world to see by the admin, shaming the suggestion. When it comes to bad cosplay photos, there's the obvious photo featuring a forty-something fat balding male dressed as a Sailor Scout (who was originally known as Sailor Bubba from ACEN fame), but there are unique photos like a Ouran High School Host Club fan taking their high school too seriously. (Note: it was a girl in a cosplay of Tamaki at her school.)
But when you think about it, the ones that don't look so bad that are tagged "bad cosplay" would remind you of yourself when you attempted cosplay–and sewing–for the first time. It can't be helped when there's not a good commissioner around, or when you don't trust sellers/can't find what you're looking for on eBay.
Outside of Weeaboo Stories, with "Anime Forums, Huh?" and "Anime or Video Games?" posted here on CEN.TAKU.ME, I've been a victim of similar ridiculousness in the past myself. Reading the Tumblr made me feel a little better about my incidents, but also distressed me that there are people like this around that make a living bullying people because their not "kakkoi" or "sugoi" enough for their tastes. I wouldn't call the people who treated me bad "Weeaboos", but "オタク" [Otaku], using the original intention of the phrase for someone who, while learning of what our anime world has to offer, has yet to learn common sense. 😉
---
So, while this blog has "Weeaboo" written all over it, everything is looked at with mature eyes of an "Otaku". Reposting this in 2020, it seems the term has been normalized for the sake of hilarity, and not so much the hardships of the early days of when the term was first coined.
What do you think of this? Are you guilty of being the bully or the innocent "Weeaboo" that took it too far? Express yourself in the comments!
[Comic: Perry Bible Fellowship]