When there is nothing to talk about on this blog, you can watch what's going on by checking out the Centaku Media channel on Twitch! With another game completed, we're going to go in another game that been on my mind for a long time from the Persona game series.
Beginning in July 2021, I will be streaming Persona 5 for the first time. It is a game that everyone talks about, with even the inclusion of Joker in Super Smash Bros. Ultimate. I originally purchased this game on sale a while back on PSN, and I'm going to finally give it a shot.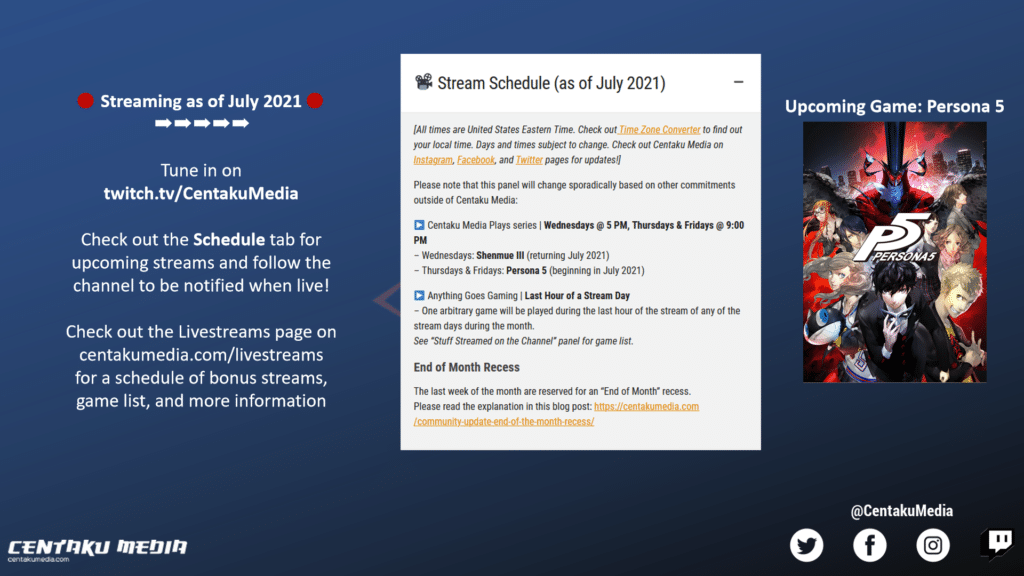 It's important to note that this will be the original version of Persona 5, and not Persona 5 Royal. There are some differences between the two, like a few extra characters and some missions. While some will say that I will be missing out, I do not mind the missing content. Let's see if the game is worth my time at all.
At the end of June, I finally wrapped up Final Fantasy X and I plan on returning to Shenmue III, starting on Wednesday nights–a new stream day added as of June 2021. Thursday and Friday nights at 9 PM remain the same, but they will be the nights for Persona 5, so you will not want to miss it!
Lastly, I have tweaked the selection of games for Anything Goes Gaming. I originally picked a game out of three from my collection to kill the time, but unfortunately I was not satisfied with Hover, and have decided it is a game better played off-stream until further notice. Instead, the last hour of every stream will be an arbitrary game that will not involve a whole lot of storytelling, but rather to kill the time.
To watch upcoming and past streams, drop by twitch.tv/CentakuMedia. Be sure to follow and turn on notifications to say hi when we're live!
Reminder: Every last week of the month are for a mandatory End of Month Recess, returning the first stream day of the next month.