If you're familiar with the game of "Never Have I Ever", you have an idea of how it goes–especially when spun into something creative in the name of blogging! Now get ready for the "Have You Ever: Gaming Edition", created by Michelle over at A Geek Girl's Guide, where a participating blogger fills in the prompts with something they have done that is related to gaming. And being in the middle of all things Otaku related, Centaku Media is the right place for it! It is also a chance to break the ice, giving the new readers more about yours truly, Sanjo-chan!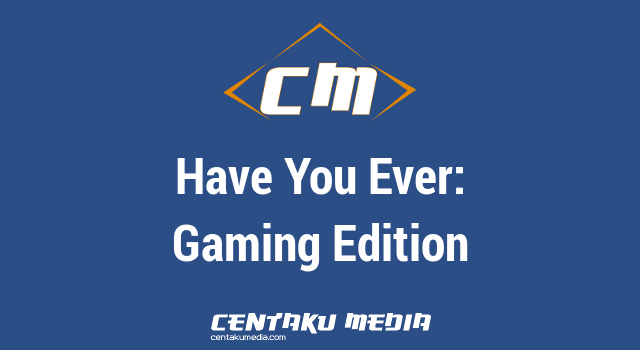 Rage Quit a Game
I have definitely raged, but not quit in the middle of a game. Although I have quit games, in a calm demeanor, because it was very obvious it was a horrible game where the opposing team whooped us pretty badly.
However, one of my favorite moments I captured included me raging for making a logistics mistake during a game of Overwatch:
Earned All Achievements in a Game
I have been close to earning achievements, but I don't bother to get them all. I'm a rather old fashioned gamer. ?
Pulled an All-Nighter Gaming
I will never forget one day a little over a decade ago when I played World of Warcraft for over 12 hours–with bathroom and snack breaks, of course! I normally played from 6 PM until 11 PM, but this one particular day I played all the way until 10 AM the next day! After that, I suddenly found myself burnt out and never played it again right after. A reminder to take things into moderation, especially playing video games!
Livestreamed Your Gaming
YES! There is a Twitch channel for that! I created a Twitch account in 2015 right when I relaunched my old blog to what you see right now, and I have livestreamed on and off since. Currently, I am in a divide on whether I should keep streaming Final Fantasy XIV, and just stream it when (and ever) I conquer the Shadowbringers expansion to follow up on post game content. As of right now, I am doing a series of "Impromptu Gaming" streams–or rather on "whenever I feel like it" time–just for FFXIV, with a playthrough underway of Shenmue I. Just recently I revisited Jet Set Radio, which was one of the first games I streamed on the channel, which I finished again–this time on stream–for the first time since 2001.
Pre-ordered a Game
Quite a few times. I think the very first game I pre-ordered was the Collector's Edition of Metal Gear Solid: Peace Walker for the PSP. It was followed by Final Fantasy XIII, FFXIII-2, and the Collector's Edition of Final Fantasy X/X-2 Remastered. However, it's been a while since I have pre-ordered games since life has taken a bite out of me, and I have a huge backlog of games to get through. One of these days…
Bought a Game and Never Played It
Hahaha… I don't know where to start on this… I have a horrible habit of picking up a game and playing through roughly the first hour or two, then contemplating on whether to play it again for weeks–unless the content grabs my attention to prioritize it, such as Final Fantasy XV and Pokemon Sword as of recent.
Then again, the same goes for my Anime and K-Drama watching habits. If it counts, the only game I have in my possession that might be a crime to wait on is Kingdom Hearts III, which is on my "To Play" list to attempt before the end of the year.
Been Jumpscared by a Horror Game
I don't play many horror games except for the original Resident Evil and Silent Hill games. But those moments weren't really what I call a jumpscare, but rather a "Let's GTFO of Here" scare.
Had a Set Squad for a Specific Game
Aside from a Free Company I share with a few IRL friends in Final Fantasy XIV to help out with dungeons and raids, I have played Minecraft on the PS4, before the cross platform update, with my friend MC Panda (who I traveled with me to Korea last fall) and a few others on occasion to help build her city, and the occasional goofing around on Survival Mode.
Bought a Game on Multiple Platforms
Final Fantasy X for the PS2, PS3, PS4, and Switch. No regrets.
Got a Console for the Games Specifically
Come to think of it… I've always stayed with only two brands of consoles, one being the PlayStation family. And later on I jumped on the Nintendo bandwagon starting with the Nintendo 64, although I skipped on the Wii/U era. I hope I don't create enemies because of this, but… I never saw the appeal of the Xbox–and I'm still upset that Shenmue II and Jet Set Radio Future was released on the original console following the demise of the Sega Dreamcast. Only one of those games anyone can play on any system they have in 2020, but still… the Jet Set Radio franchise as a whole doesn't get any love.
Want to give this list a try on your own blog? Check out the original "'Have You Ever' Gaming Edition" post over at A Geek Girl's Guide for some more inspiration and see what she has to say! Be sure to link to her post as credit if you participate!