This past summer the Final Fantasy convention ran by fans, for fans, KupoCon, announced an awards event called "The Crystals", awarding the best of the Final Fantasy franchise in various categories. The nominees were selected and voted upon where the final winners was selected early in October.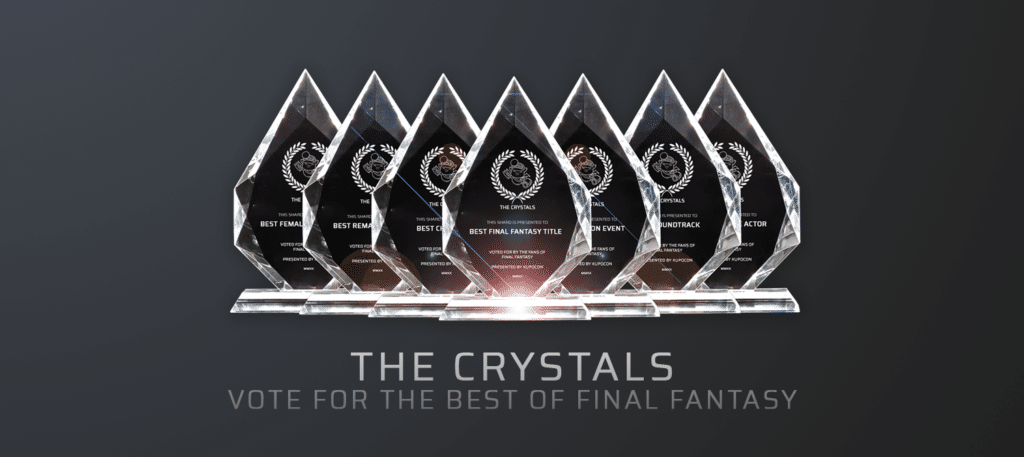 For those unfamiliar with KupoCon, it is a convention ran by fans of the Final Fantasy series, with events primarily held in the UK and Canada, with a few events held previously in the US. Due to 2020 being what it is, KupoCon has decided to go the digital route with online events, one of them being The Crystals award ceremony. Categories include Best character, Best Voice Actor, Best Game in the franchise, and of previous KupoCon events for those that have actually attended previous conventions.
I previously reported on the nominees during the voting period. Now that the award ceremony has been held on KupoCon's Facebook page, let's find out who the winners are!
Best Iconic Creature: Chocobo
Best Weapon: Buster Sword (Final Fantasy VII)
Best Minigame: Triple Triad (Final Fantasy VIII)
Best Location: Midgard (Final Fantasy VII)
Best Summon: Shiva
Best Soundtrack: Final Fantasy VII Remake
Best Song: "To Zanarkand" (Final Fantasy X)
Best Character: Vivi (Final Fantasy IX)
Best Villain: Kefka (Final Fantasy VI)
Best Artistic Direction: Final Fantasy XV
Best Iconic Storyline: Final Fantasy X
Best Battle System: Final Fantasy VII Remake
Best DLC: Final Fantasy XV: Episode Ignis
Best Expansion Pack: Final Fantasy XIV: Shadowbringers
Best Mobile Game: Dissidia Opera Omnia
Best Spin-Off: Final Fantasy Tactics
Best Movie: Kingsglaive: Final Fantasy XV
Best Remaster: Final Fantasy XII: The Zodiac Age
Best Remake: Final Fantasy VII Remake
Best Male Voice: John Eric Bentley (Barret – Final Fantasy VII Remake)
Best Female Voice: Britt Barron (Tifa – Final Fantasy VII Remake)
Best Game: Final Fantasy VII
Best KupoCon Day Event: Pomex (London 2019)
Best KuponCon Evening Event: The Big Band Basch (Glasgow 2020)
Best KupoCon Event: Chocobo Ranch Active Time Event
Best KuponCon Community Project: The Nibleheim Incident
Best TriPod Card: Black Waltz by King Cael
Considering this is a Final Fantasy related poll, it was expected for FFVII to sweep a lot of these, but there were definitely some surprises! Congratulations to all the winners and nominees!
If you missed the awards ceremony live, KupoCon has the full event on their Facebook page. Be sure to check out more of their events for those interested in what KupoCon has to offer!