I've been working in the back of the blog improving the Livestreams page. The page is where you can find the current Twitch schedule for all your gaming needs! It was originally all on the panels on the Centaku Media page on Twitch, but I'm on a information diet to keep everything simple.
As of February 2021, I am currently streaming Final Fantasy X and Shenmue III, Thursday and Friday nights at 9 PM respectively. Also as of this month I have added an additional stream called Anything Goes Gaming, where I pick a game out of three from my collection to kill the time. These can be watched every other Friday at 3 PM ET–typically on the First and Third Friday of the month.
To watch upcoming and past streams, drop by twitch.tv/CentakuMedia. Be sure to say hi!
Reminder: Every last week of the month are for a mandatory End of Month Recess, returning the first stream day of the next month.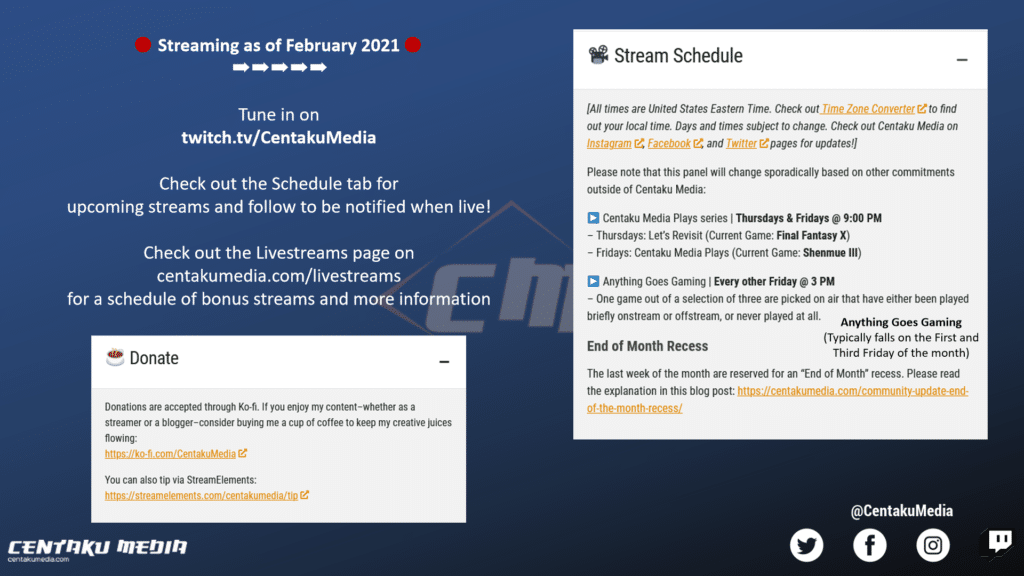 BONUS: Be sure to check out the first Anything Goes Full Completion Poll to decide which two games from the month of February I should play to the end.