Back in February 2018, I made a personal accomplishment by attending 20 K-Pop concerts since 2012. The first K-Pop concert I ever attended was BIGBANG's first world tour, held at the Prudential Center in Newark, NJ. Since then, a close friend made it an effort to attend as many K-Pop concerts as physically and financially possible. Even if it's not "In Your Area".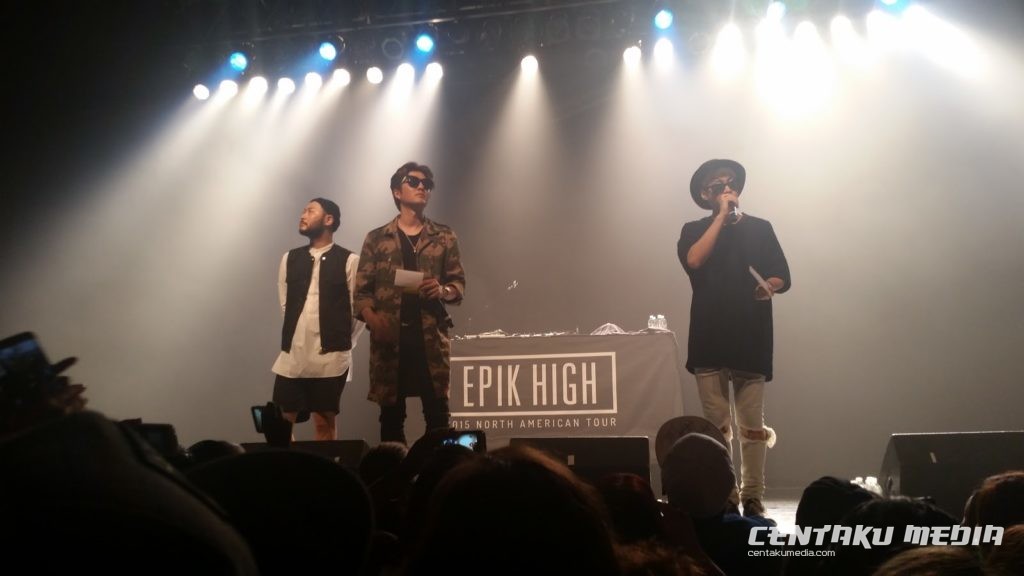 One of the struggles of being a K-Pop fan is having to go out of our way to see our favorite idols. Between myself and a close friend, we live in the area of East Tennessee and North Georgia. At the time of BIGBANG, it seems that the go-to places were either New York or Los Angeles/San Francisco.
These were the concerts we went out of our way to attend throughout the decade:
2012: BIGBANG (Newark, NJ)
2013: B.A.P (Washington DC)
2014: Boyfriend, B1A4 (Dallas, TX)
2016: EXO (Newark, NJ)
2017: B1A4 (Chicago, IL)
2018: Astro (Washington DC)
We thought with how long the Hallyu has made itself known, a little before PSY in the US, there would be more concerts in locations that is easily accessible. Case in point: Atlanta, GA.
An Untapped Population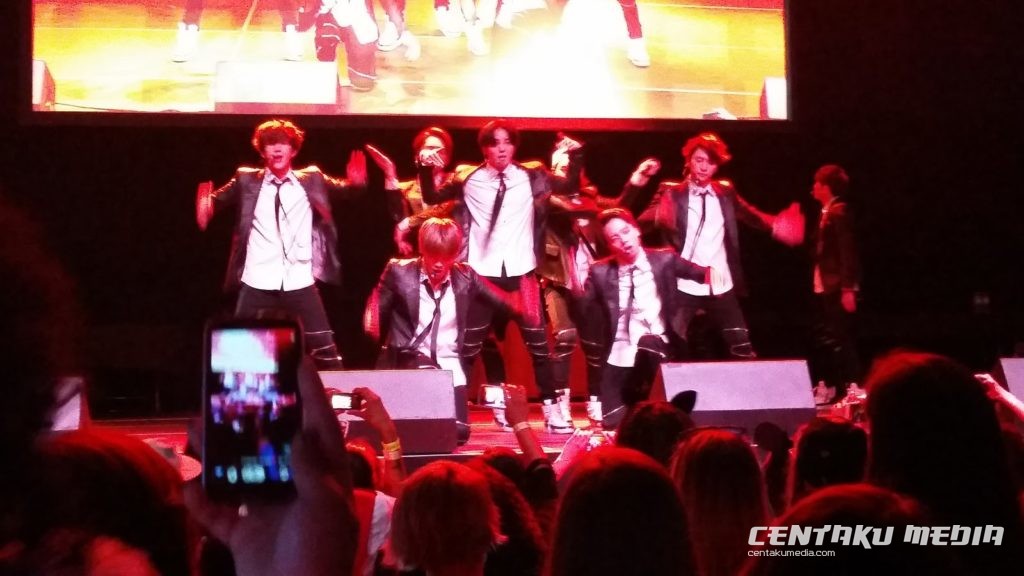 Outside the metro Atlanta area lays Gwinnett County, Georgia. The county has the highest Asian population in the state. For one who lives within vicinity of the county, it is the idea ultimate weekend getaway for those who are into Korean culture, with many dining and nightlife choices such as Iron Age and Doremi Karaoke, along with two Super H-Mart stores and baked good choices between Tree Story and White Windmill.
Between 2012 and 2014, it was disappointing to find more and more concerts being held outside the state, with more concerts being summoned to the state of Texas, and sometimes Florida.

In 2015, that all changed. At the end of 2014, the then-rookie, now-disbanded male group Topp Dogg announced a US tour, "Topp Klass US Showcase", with Atlanta included in their stops. Jazzy Group and Stardom Entertainment (now known as Hunus Entertainment) announced Topp Dogg's first showcase in the United States. Topp Dogg is Hunus' second male group following the departure of Block B after a legal battle due to contract issues. Despite past issues, in the saturation of up and coming bands, Topp Dogg, on the heels of their "Anniversary" promotions at the time, was not yet a huge group as B.A.P for comparison's sake. However, it didn't matter how big they were and all that matters is that the fans were happy to see them, making the concert a success.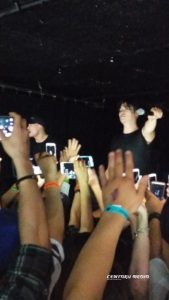 For some reason, Atlanta was overlooked when it comes to K-Pop concerts for "mainstream" groups, especially in a bid to have the city included in part of EXO's EXO'lution #2 tour in early 2015.
Back in December 2014, SM Entertainment teamed up with MyMusicTaste to find 5 cities in North America to hold EXO's first tour in the continent. If you live in North America and a K-Pop fan, you know how it goes: the next group that performs in the US or Canada go to a well known, populous "default" city such as New York, Los Angeles, or Vancouver, and never Atlanta, Orlando, or Toronto. During the voting process for the EXO'lution tour: in addition to the "default" cities named above, Dallas, Chicago were chosen, even when Atlanta and Toronto were in the Top 5.
When fans were disappointed that Atlanta did not get selected, it was referenced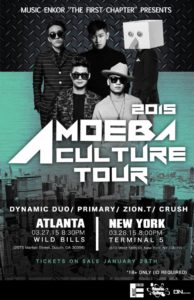 that the previous K-Pop acts that performed in Atlanta were 2PM and Wonder Girls, back in 2010. While it seems strange that the city gets passed up to host a K-Pop concert of a large scale, despite the area having a county with a reasonable Korean population of Gwinnett, Atlanta did have at least 5 K-pop concerts in 2015 that is worth mentioning.
Topp Dogg's concert was the first of many tour inclusions for Atlanta for the next few years that I managed to attend:
2015: Topp Dogg, Amoeba Culture (Crush, Dynamic Duo, Zion T., Primary), Epik High, 90s K-Pop Superstars (Clon, Jinusean, DJ DOC)
2016: B.A.P, Dynamic Duo, GOT7, Dok2 & The Quiett, Crush
2017: B.A.P, MONSTA X, San E (charity concert), Illionare/Ambition Records Tour (Dok2, The Quiett, Hash Swan, Changmo, Keem Hyoeun)
2018: Eric Nam
BTS Highlight Tour Controversy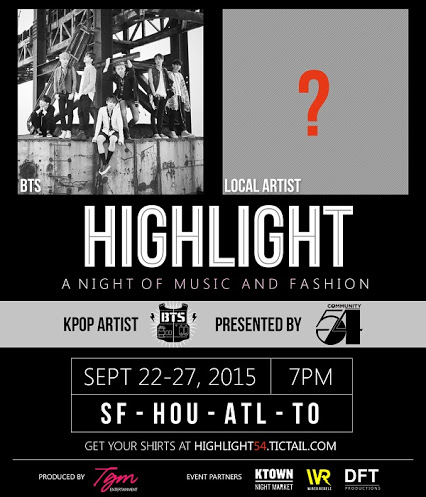 Unfortunately, this concert had so many issues that I could have not included this one on the list, but it should be reminded of what went wrong. In the middle of 2015, BTS already held a US tour in other parts of the country, including one of the "default" cities. Later, concert promoter TGM Events announced the Highlight concert tour for late September with one of the stops including Atlanta. But there was a catch: the only way to see the concert was to buy a T-Shirt for approximately $75 USD.
A few weeks before the concert, tickets were sold out, but a few days later, TGM announced that there were more available on limited notice. It seemed too good to be true: on the night of the Atlanta concert, the venue was at capacity and the remaining ticket holders had to wait… in the rain. Needless to say, ARMYs were furious and took to social media to express their anger and disappointment of how the concert was handled, and more so after TGM Events released a statement.
In the few years since the incident, BTS has held a few sold out tours, including an upcoming stadium tour, which includes only three US cities, that does not include Atlanta, however. Unfortunately, this appears to be the last tour as a group for a long while as one of the members are expected to go on mandatory military service in 2019.
2019: The Year of K-Pop in Atlanta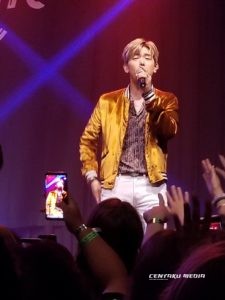 As of writing, 2019 will see 6 K-Pop concerts in Atlanta, and it is only the third month into the year! BLACKPINK, performing on May 5th, is the biggest acts to head to Atlanta, and one of the very view Female Groups to perform in the city, with Wonder Girls in 2010 and Oh My Girl recently at the end of 2018.
Before BLACKPINK was announced, Epik High announced their April 15th return to Atlanta to promote their new album, "Sleepless in __________". Just a few days after tickets went on sale, Hip-Hop/R&B artist SIK-K announced a US tour, which is three days before Epik High, on April 12th. In the aftermath of BLACKPINK's show selling out in just 30 minutes, SF9 announced an April 24th show, along with NCT 127 two days later on April 26th. While the aforementioned five shows take place virtually back-to-back in the span of a few weeks, MONSTA X announced a return to Atlanta on July 30th, giving fans a little break, whether mentally or financially.
For 2019, SIK-K, Epik High, BLACKPINK will add to a total of 24 Korean Music concerts I have personally attended, which is an unexpected, geeky accomplishment! Although 7 of those concerts were trips that required efforts of a lengthy drive, or a place ticket. There are many more concerts that have been in Atlanta that I was not able to attend, such as the recent DPR Live show and the 88 Rising tour featuring Keith Ape of "It G Ma" fame. (Warning: Explicit Lyrics)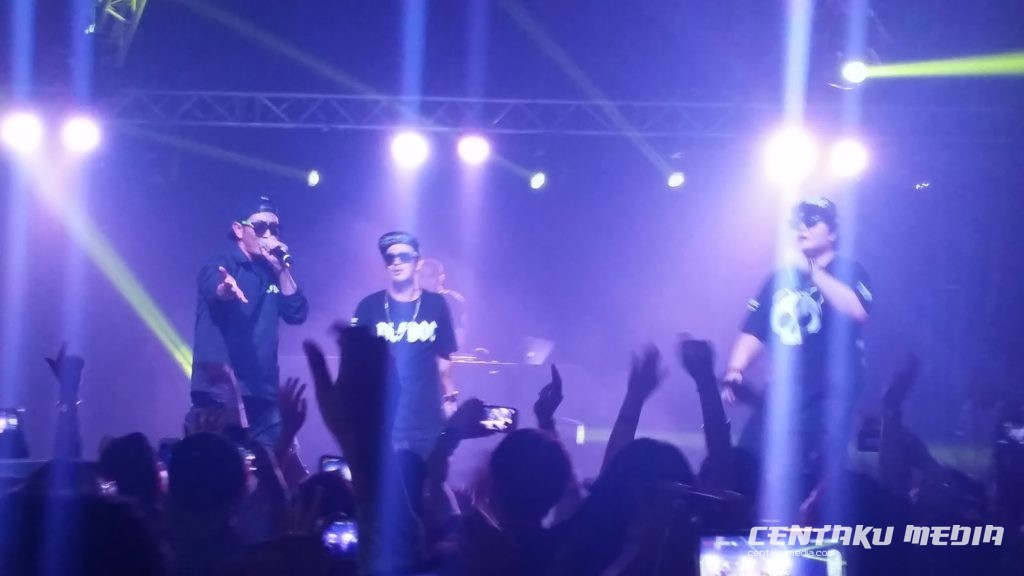 It would not have been possible to find out who's coming to Atlanta without the help of the Hallyu Atlanta page on Facebook. The page shares the latest events in the ATL relating to Korean culture, including upcoming Korean music concerts and K-Pop related panels happening at MomoCon and Anime Weekend Atlanta. If you live in or near the Atlanta area, please follow this page to find out what's happening!
Have you been to a K-Pop concert before? How many have you attended? What was your favorite concert? Let us know in the comments!